Map Unavailable
Date/Time
Date(s) - 04/01/2021 - 04/11/2021
All Day
Location
Clay County Fair Grounds
Categories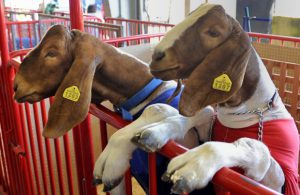 Hey fam,
The Clay County Fair is back! It's been 35 years!! that this Fair has been going on! I love the Fair! I love to see animals and livestock! It makes my day! Not to mention the fair food! I hope this year to experience something different as far as fair food goes. As far as rides……. That's not me! Lol! I really don't trust fair rides.
Nonetheless, the PlayWitIt crew and I are heading out this weekend to check it out. This is the last weekend of the fair. We choose to go on Saturday because it's is "Taste The Fair" day! yep. and there will be food deals from 2-4 pm! Now, for those of you, that like fair rides or want to take the kids out for some fun the armbands are $30.00 on Saturday, and on Sunday they are $27.00 (the last day)
Gates open up on Saturday from 10 am – 12 am & the Midway opens at 11 am
Sunday from 11 am – 7 pm & the Midway @ 12 pm
Tickets:                                                          Adults $10.00 Ages 6-12 $7.00 Seniors $7.00
You know WhaTaDu…..PlayWitIt!! & if you don't get a chance to check out the Fair for yourself come back and check out our footage.
This is your girl Dutchess…. Out!